2017 Glacier Cruises
Alaska Glacier and Wildlife Day Cruises
Phillips Cruises and Tours, LLC provides Prince William Sound glacier cruises to Alaska residents and visitors from around the world. Our award winning glacier cruises depart from Whittier, Alaska - the Gateway to Prince William Sound.
Our "No Seasickness Guarantee", first-class catamarans, complimentary hot meal and customized narration are just a few of the many reasons why Phillips Cruises and Tours is recognized for operating the best glacier cruise experience in Alaska. Every journey of discovery to Prince William Sound is unforgettable.

We offer rail and coach transportation options to Whittier and other tour activities in Alaska. We look forward to being a favorite highlight of your Alaska vacation.
Our Cruises
We operate the 26 Glacier Cruise and the Glacier Quest Cruise to explore Alaska's natural beauty.
May 5 - Sept. 30, 2017
12:30 PM - 5:30 PM
$159 Adults+ tax/fees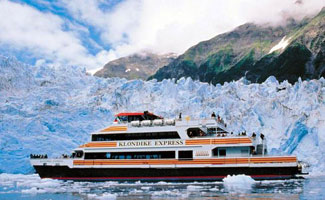 26 Glacier Cruise - Our most popular choice!
A journey into Prince William Sound is unforgettable. Explore the serenity of Esther Passage. View the majestic alpine and tidewater glaciers in College and Harriman Fjord while traveling in luxurious comfort aboard the M/V Klondike Express, the fastest catamaran in Alaska.
May 13 - Sept. 10, 2017
1:00 PM - 4:45 PM
$109 Adults + tax/fees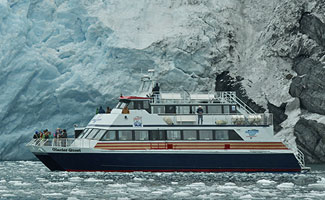 Glacier Quest Cruise - Great choice for families with children!
Cruise into magnificent Blackstone Bay, home to seven glaciers and Yosemite-scale waterfalls. Watch for playful sea otters, harbor seals, kittiwakes, bears, whales or mountain goats. The M/V Glacier Quest is a luxury catamaran that will whisk you to your adventure in comfort with large picture windows and heated cabin.
Getting to us
Whether you ride the historic Alaska Railroad, take a narrated coach tour to Prince William Sound or drive yourself, the journey will be spectacular. Travel along the scenic Seward Highway to the glacier-studded Portage Valley. To access Whittier, you will travel through North America's longest shared rail/vehicle tunnel. Be sure to keep an eye out for wildlife along the way. Learn more...